The Ford Expedition has been around since the late 1990s, and despite an overhaul for 2003, the company itself characterizes this all-new model as only the second generation of its biggest SUV. No matter how you count the versions, the Expedition's revamp is long overdue, and it brings wholesale changes that are significant.
A redesigned Ford Expedition goes on sale this fall and is likely to represent the benchmark against which all full-size SUVs are measured. Two body lengths will be offered, the Expedition MAX measuring a foot longer and 16.3 cu.-ft. roomier in terms of cargo space. Consumers will choose between XLT, Limited, and Platinum trim, with the base Expedition XL reserved for fleet purchase only.
Like its pickup sibling, the Ford F-150, the 2018 Expedition has switched to an aluminum-intensive architecture for weight reduction. With its aluminum body panels attached to a redesigned steel frame, the new vehicle is said to be up to 300 pounds lighter than the outgoing model. And yet the Expedition is bigger—the 2018 short-wheelbase version is four inches longer than before, while the extended-wheelbase Expedition L is one inch longer than the previous model.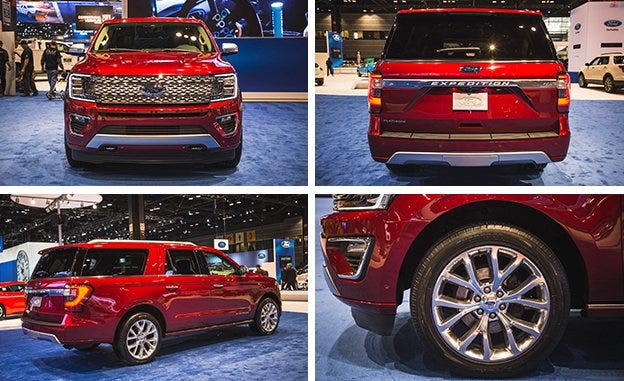 Exterior Features
With the new 2018 Expedition,
Ford
wraps a high-strength steel frame in aluminum bodywork, similar to the brand's
F-150
pickup truck. The result is a sharply creased and tailored SUV, especially in chrome-dipped Platinum trim with the available 22-in. aluminum wheels. Weight is down approximately 300 lbs. compared with the previous version of the SUV.
Interior Features
Inside, the 2018 Ford Expedition provides seating for up to 8 people. The second-row seats slide forward and back, and also tip and slide forward to ease entry to and exit from the third-row seat, even when a child safety seat is latched into place. Ford says the third-row seat has more legroom than the previous Expedition.
Push a button to fold both rows of rear seats, creating a flat floor designed to hold 4x8 ft. sheets of plywood. A new cargo management system installs a dividing shelf behind the third-row seat, perfect for carrying gear. The shelf and cargo floor are specifically designed so that items don't fall out of the SUV when the rear liftgate is opened, not even when the SUV is parked on a hill.
Tech Turnup
Ford also added a lot of safety and convenience technology to the Expedition, including Sync 3 and Sync Connect with Apple CarPlay and Android Auto capabilities, wireless device charging in the center console, and an available Wi-Fi hotspot with a 50-foot range. Six USB ports (two per row), four 12-volt power sources, and a 110-volt AC outlet are standard, while a 12-speaker Bang & Olufsen audio system and a second-row headrest-mounted entertainment system is optional.
Ford claims the 2018 Expedition has 40 new-to-the-model features and optional driver-assist technologies. Maneuvering is made easier with a 360-degree camera, parking sensors, and trailer backup assist. It also will offer lane-keeping assist, adaptive cruise control, pre-collision warning with automatic braking, and blind-spot monitoring.
Safety
Though the 2018 Expedition has gone on a diet, it remains a large and heavy full-size SUV. In turn, that means that it is likely to prove quite safe in collisions with smaller, lighter vehicles. Almost certainly, its new vehicle architecture has been engineered to excel in this regard.
With that said, Ford would prefer that the Expedition avoid a collision before it can occur. That's why the company equips it with "more driver-assist technology than any other full-size SUV."
Announced highlights include a forward-collision warning system with pedestrian detection, blind-spot monitoring system, and a lane-departure warning system with lane-keeping assist. Additional driver-assist systems include adaptive cruise control with stop-and-go capability, a 360-degree surround-view camera system, and active park assist that can steer the SUV into and out of parking spaces while the driver operates the pedals and transmission.
Additional safety features are found in the Expedition's Sync connected services packages, including automatic collision notification and programmable settings designed to limit speed and stereo volume, and encourage seat belt use when teenagers have borrowed the family SUV.
Fast Facts:
Completely redesigned full-size SUV
High-strength steel frame
Aluminum body panels
8-passenger seating
New twin-turbocharged V-6 engine
Claimed best towing capacity
Tons of technology
On sale in the fall of 2017
Built in Kentucky
2018 Ford Expedition Preview 2018 Ford Expedition Preview 2018 Ford Expedition Preview 2018 Ford Expedition Preview2018 Ford Expedition Preview 2018 Ford Expedition Preview 2018 Ford Expedition Preview 2018 Ford Expedition Preview 2018 Ford Expedition Preview 2018 Ford Expedition Preview 2018 Ford Expedition Preview 2018 Ford Expedition Preview 2018 Ford Expedition Preview