Ramsey Mazda is a member of the Ramsey Auto Group. They highly rated Mazda dealership in New Jersey*. Located in Bergen County, in Ramsey, NJ - they have been making their customers happy for years. Ramsey Auto Group is a well-known automotive retailer in New Jersey for new and pre-owned vehicles. Current dealerships include Ramsey Volvo, Ramsey Subaru, Ramsey Nissan, Ramsey Infiniti, Ramsey Fiat, Ramsey Mazda, and Ramsey Chrysler Jeep Dodge.
With 8 locations in the northern New Jersey area and over 400 employees, Ramsey Auto Group strives to provide the highest level of customer service through knowledgeable and helpful sales representatives, as well as service and parts personnel. Ramsey Auto Group dealerships have been honored with several outstanding achievements, such as the coveted 2016 Mazda Gold Cup Certified Dealer Award, which honors dealerships that achieve and maintain the highest standards of performance in customer satisfaction globally.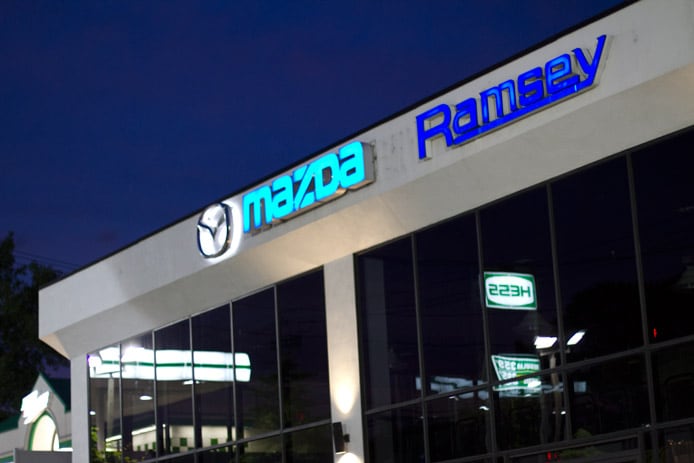 Mazda 2016 Gold Cup Award Press Release:
"IRVINE, Calif. ( February 11, 2016) - Mazda North American Operations (MNAO) today announced the names of those dealerships to win the 2016 Mazda Gold Cup award. This is the highest honor a Mazda dealer can receive for their dedication to customer satisfaction and new vehicle sales.
Dealers qualify for Mazda Gold Cup status by meeting rigorous customer satisfaction requirements: sales, loyalty goals, maintaining a quality dealership image, and ensuring their sales and service staff adheres to Mazda training requirements on an on-going basis. Only dealerships that deliver the best sales experience and increase customer loyalty are given this prestigious award.
Of the award, president and CEO of MNAO, Masahiro Moro said, "Every year, Mazda recognizes the top-performing dealerships for the best sales and service experience in the industry, and this year's recipients truly showcase dealerships that continue to make Mazda proud.
"This is a great achievement, highlighting each dealer's focus and dedication to both their customers and the Mazda brand. We congratulate each and every one of this year's Gold Cup recipients. While all authorized Mazda dealerships are eligible, only a select number are awarded this high honor."
https://youtu.be/psViIxDL-Yg
A staple in the community, Ramsey Auto Group has donated over $1 million in goods and services to local organizations and events, such as the Ramsey Police Dept, Ramsey Day, Ramsey Summer Concert Series, the Bergen Bike Tour, local food and clothing donations and more. The group has been supporting their family and friends in the town of Ramsey for years and in turn, the community continues to support Ramsey Auto Group.
*Per customer reviews on sales and service satisfaction on DealerRater.com